Dear Colleagues,
May I first of all thank you for your kind and strong support to ANSO and hope that this letter finds you and your families in good health.
In consideration of the serious global outbreak of the new coronavirus (COVID-19) and related restrictions and measures taken, I regrettably inform you that we have to make the decision in postponing the Second ANSO General Assembly and related meetings scheduled to take place on 27-29 May 2020 to a future time appropriate and allowable within the year.
The ANSO Secretariat will stay in communication with you, particularly the Russian Academy of Sciences, the host of the Second ANSO General Assembly in deciding the future time of the Event. I do want to thank you for your understanding on the decision. I am sorry for all the inconveniences and problems this change of date would cause you.
With my kindest regards,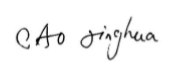 Prof. Jinghua Cao Executive Director of ANSO Secretariat