From October 9 to 13, 2023, the "Training workshop on customized CropWatch for Nigeria" was successfully held in Abuja, capital of Nigeria. This training event was jointly organized by the United Nations Conference on Trade and Development (UNCTAD), the Alliance of International Science Organizations (ANSO), the Aerospace Information Research Institute, Chinese Academy of Sciences (AIRCAS), and the Nigerian National Space Research and Development Agency (NASRDA). 32 government officials and experts from nine Nigerian departments, including the Ministry of Agriculture and Food Security, NASRDA, the Nigeria Meteorological Agency (NIMET), the Sustainable Development Goals Agency, and the National Bureau of Statistics, participated in the training.
It is one of the important capacity-building activities supported by the ANSO Project -- CropWatch Innovation Cooperation Project (CropWatch-ICP), which focuses on South-South cooperation to empower developing countries in agricultural monitoring and enhance food information transparency. Dr. Halilu Ahmed Shaba, Director General of NASRDA, made a speech at the opening ceremony. He pledged that NASRDA would provide all necessary support for the project's implementation, thereby contributing to space technology enhancement for Nigeria's sustainable agricultural development.
The CropWatch team from AIRCAS, including Associate Professor Zhang Miao, Associate Professor Zeng Hongwei, and Assistant Professor Zhu Liang, provided training courses on in situ data collection, application of CropWatch Cloud platform, high-resolution components, as well as model calibration. A two-day joint field campaign was conducted over more than ten farms in Abuja State, collecting thousands of ground-truth crop type samples.
Following a five-day training program, all trainees have acquired essential skills in utilizing CropWatch for agricultural monitoring at various scales. They successfully gathered ground-truth data, fine-tuned high-resolution crop classification algorithms, and established localized monitoring models for specific provinces in Nigeria through discussions and practical exercises. This significant achievement has empowered the deployment of CropWatch models utilizing Nigerian satellite and in situ data, thereby furnishing technical, platform, and information support to address food security challenges and work towards achieving the goal of zero hunger.
Dr. Matthew Adepoju, delivered a closing remark on behalf of the DG of NASRDA when the workshop concluded. He stressed that this technical training is just the beginning of the journey to customize CropWatch for Nigeria. He called upon Rakiya Babamaaji, the coordinator of CropWatch for Nigeria at NASRDA, to draft the next steps in action plans to drive progress of the program and contribute to informed decision-making for Nigeria's food security.
To mark the successful completion of the training workshop, Zhang Miao and Matthew Adepoju jointly presented CropWatch training certificates to all dedicated participants, recognizing their commitment to enhancing Nigeria's agricultural monitoring capabilities.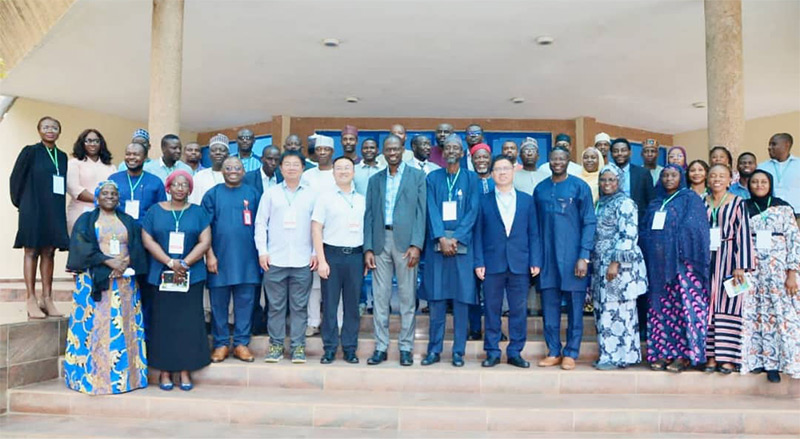 Group photo of the opening ceremony
Source: Miao Zhang, Hongwei Zeng, Liang Zhu, Aerospace Information Research Institute, Chinese Academy of