On April 18, Sri Lankan President Gotabaya Rajapaksa appreciated Chinese Academy of Sciences for the timely donation of essential medical supplies to Sri Lanka using his twitter.
A donation ceremony was conducted at the Embassy of Sri Lanka in China on April 2, 2020. Professor Yuansong Wei, researcher from Research Center for Eco-Environmental Sciences (RCEES), Chinese Academy of Sciences (CAS), handed over 11,830 face masks (including medical N95, disposable medical surgical masks) and 150 medical protective goggles to the Acting Ambassador Mr. K.K. Yoganaadan, on behalf of the China-Sri Lanka Joint Research and Demonstration Center for Water Technology (CSL JRDC), CAS and One Belt and One Road Environmental Technology and Industry Alliance (OBOR ETIA). These medical products will be transported to Sri Lanka and used to battle the COVID-19 epidemic.
Professor Wei said, "We stand together with Sri Lanka to fight this global pandemic, and greatly appreciate the support from Sri Lanka during our tough time in battling the COVID-19 in February." Mr. K.K. Yoganaadan briefly introduced the current prevention and control of the COVID-19 in Sri Lanka, and highly appreciated the timely efforts in providing the urgently needed items to Sri Lanka. "We will send them by next available flight to Ministry of Health, Sri Lanka".
The donation was jointly initiated by the CSL JRDC (CAS) and Secretariat of B&R ETIA on March 25, and got rapid responses from researchers in CAS, Peking University First Hospital (PUFH), and the member companies of B&R ETIA including Jiangsu LiDing Environmental Protection Equipment Co., Ltd., Wuxi Gongyuan Environmental Technology Co., Ltd., LIHERO Technology (Hunan) Co., Ltd., Zhejiang Lianchi Water Equipment Co., Ltd., HEXU Environmental Technology Co., Ltd., Beijing Jingrun Environmental Protection Technology Co., Ltd.. Learning this news, the Society for Ecological Rehabilitation of Beijing (SERB) and other people also donated money to the activity. The donation activity was recently reported by China Embassy in Sri Lanka, Sri Lanka Embassy in China and the Chinese Academy of Sciences.
The CSL JRDC aiming at finding CKDu causes and providing safe drinking water for Sri Lanka is a joint science, research and education center by Chinese Academy of Sciences (CAS), Ministry of Urban Planning, Water Supply and Housing Facilities (MUPWSHF) of Sri Lanka and University of Peradeniya (UoP). Through joint research, education and training, development and demonstration of water technology by the support of the CSL JRDC, 66 water and medical professionals have finished their training courses in China, and 17 Sri Lankan master and doctoral students are awarded with scholarships studying in the CAS. And the jointly developed technologies for groundwater treatment and rainwater harvesting are applied in the CKDu affected areas of Sri Lanka, providing high-quality drinking water for more than 4000 local people.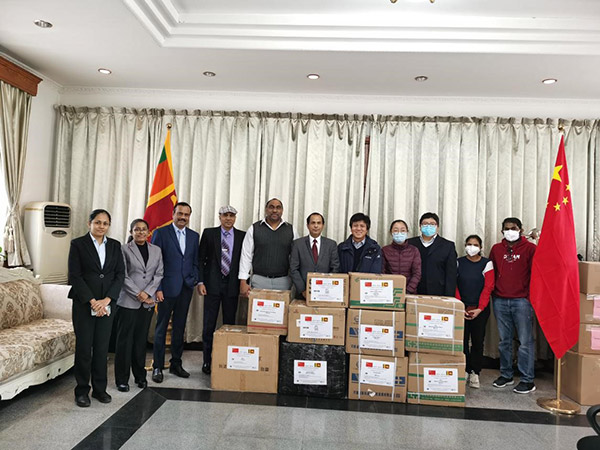 Research Center for Eco-Environmental Sciences, Chinese Academy of Sciences China-Sri Lanka Joint Research and Demonstration Center for Water Technology, CAS
One Belt and One Road Environmental Technology and Industry Alliance
April 21, 2020